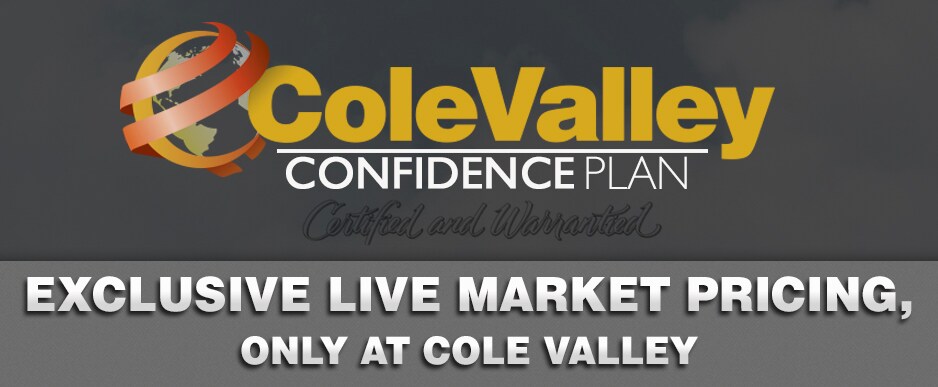 Cole Valley Chevrolet announces Live Market Pricing on all preowned vehicles in stock.
Save time and money with our best price up front.  Talk to us about our Live Market Pricing - Our Lowest Internet Price
Please read more about our Live Market Pricing on our blog
All preowned vehicles are priced fairly at Live Market Pricing - below competitor prices and NADA values.
For nearly 100 years, we've practiced the principles of providing hometown values and service to the customer.  However, 
the automotive industry has a reputation of its own that doesn't line up with our philosophy of doing business.  It is our focus
to continue to set us apart from that industry perception and set a new standard for your car buying experience.
We work hard every day to provide an experience customers know they can trust and one that is absolutely hassle free - an
experience we would want for our ourselves and our families.  One of the many ways we do this is by pricing our preowned
vehicles at Live Market Pricing.  This system allows us to determine the lowest 10% of prices in the market place for used cars,
trucks, SUV's and Vans which are like our cars - same equipment, same mileage and same condition.  We don't inflate prices
that customers have to worry about haggling over.  We want our customers to know that they are getting a fair deal, usually
thousands below NADA retail pricing, from the very beginning.
We give you information about all of our vehicles up front, including a free Carfax report, all documented repairs and reconditioning
work done, and a clear picture of our pricing so that you can see how hard we work to provide you with a fair, hassle free price
to simplify your purchase.  
We truly appreciate the opportunity to exceed your expectations.