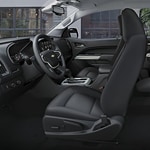 The Chevrolet Colorado might not be as big as some others on the road today, but you wouldn't know it by how well it performs. It is easy to drive and has the added features that you need to get the job done. This is why it is now one of the more popular mid-size trucks on the road.
The standard engine on the Colorado is 2.5-liters and 4-cylinders. You will benefit from having 200 horsepower and 191 pounds per foot of torque to get you where you need to go. All of this means that your mid-size truck can safely tow 3,500 pounds.
You also have the option of putting in a 3.6-liter V6 engine in your Chevrolet Colorado. This will bring 308 horsepower and 275 lb./ft of torque to the table. With that, you can easily tow as much as 7,000 pounds behind your truck. Test drive it today at Cole Valley Chevrolet.