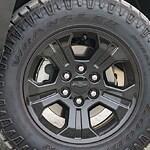 If you're considering a full-size SUV as your next vehicle, the Chevrolet Tahoe has so much to offer. We here at Cole Valley Chevrolet are pleased to introduce the latest editions of this popular vehicle model to drivers in and around Newton Falls, OH, and we're sure that you'll like what you see when you stop in at our showroom for a test drive.
The Tahoe's performance begins with your choice of three different engine styles. Regardless of whether you pick one of the gas-fueled V8 motors or go with the diesel-fueled option, you'll find capability and power to spare. Each of the engine selections is compatible with a well-engineered 10-speed automatic transmission.
Fuel economy was not overlooked by the Tahoe's designers. Both gas-powered engines include dynamic fuel management technology that contributes to their highway fuel mileage ratings of around 20 miles per gallon.